[Note: this is cross-posted from my entry today at Florida Citizens for Science.]
The Naples Daily News has a story up about efforts in the Florida legislature to possibly change the way textbooks are reviewed, approved and purchased: Activists look to change "buy" the book procedures
Bills in the state House and Senate would change the way school districts select classroom material, increasing parental involvement, putting more of the burden on elected, rather than appointed, officials and de-emphasizing electronic materials.
I briefly mentioned the Senate bill, filed by Sen. Hays, in a previous post in which I asked what the motivation behind the bill might be. Information in the Naples Daily News article has provided some clues to help us answer that question.
The identical bills are the work of the Florida Citizens' Alliance and Better Collier County Public Schools, two organizations frequently at odds with the Collier County School Board majority and Superintendent Kamela Patton.
I looked up Florida Citizens' Alliance and discovered some interesting things about them. They've been concentrating on history textbooks, but some of those books have sections explaining human evolution. In this December 22 post, they say that there is a problem with how evolution is presented:
"Florida History: People and Nations" Collier County 6th grade History: These two pages teach the children that we descended from apes. This is stated as a fact not a theory. Nowhere in the material is a balanced discussion of the biblical explanation.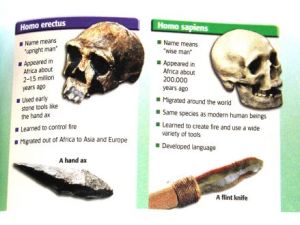 There is a link in their post to a pdf scan of the textbook pages in question.
In a December 15 post they publish a full report on Modern World History, 9th Grade Teacher Edition Year: 2013. Here is one of their critiques:
Study of Darwin's theory of evolution

Very biased section and Darwin's conclusions presented as fact and the biblical theory as ludicrous

– Poses the question "how can the earths tremendous variety of plants and animals be explained?" states as fact millions of species exist and fossil records document changes over time. Darwin proved species compete for food and only fittest survive and pass off traits to their offspring.

-while the biblical explanation claims all species created by God on the same day

This is a totally superficial and disingenuous comparison. No reference of fact that both are theories or offer students references like the well documented series called " The Truth Project" by Focus on the Family.
And a November 2 post is titled: "How To" Suggestions For Creating And Managing A Curriculum Education Watchdog Committee In Your County. One suggestion there is:
Reach out to church leaders to help them understand how evil much of the revisionist content is. The History and literature Common Core uses teaches that nothing is true and everything is permissive. Example: FL 6th grade world History books teach we came from apes as a statement of fact rather than teaching the Theory of Evolution as a theory.
Now take a look at their Examples of Acceptable/Proven K-12 Standards and Corresponding Curriculum. One such example is Freedom Project Education, which displays on their website: "Classical, Judeo-Christian, Online Academy". The textbook they use in Biology is Exploring Creation with Biology.
Florida Citizens' Alliance is rallying supporters to push these bills through, using an Action Alert to spark the campaign. Also take note of this paragraph in the Naples Daily News article:
Flaugh said about 80 organizations from around the state have agreed to support the legislation. He expects 15 to 20 representatives from those groups to be in Tallahassee in January to lobby for the changes as the legislative session begins Jan. 12.
The motivations behind the bills are now very clear. There is no question.